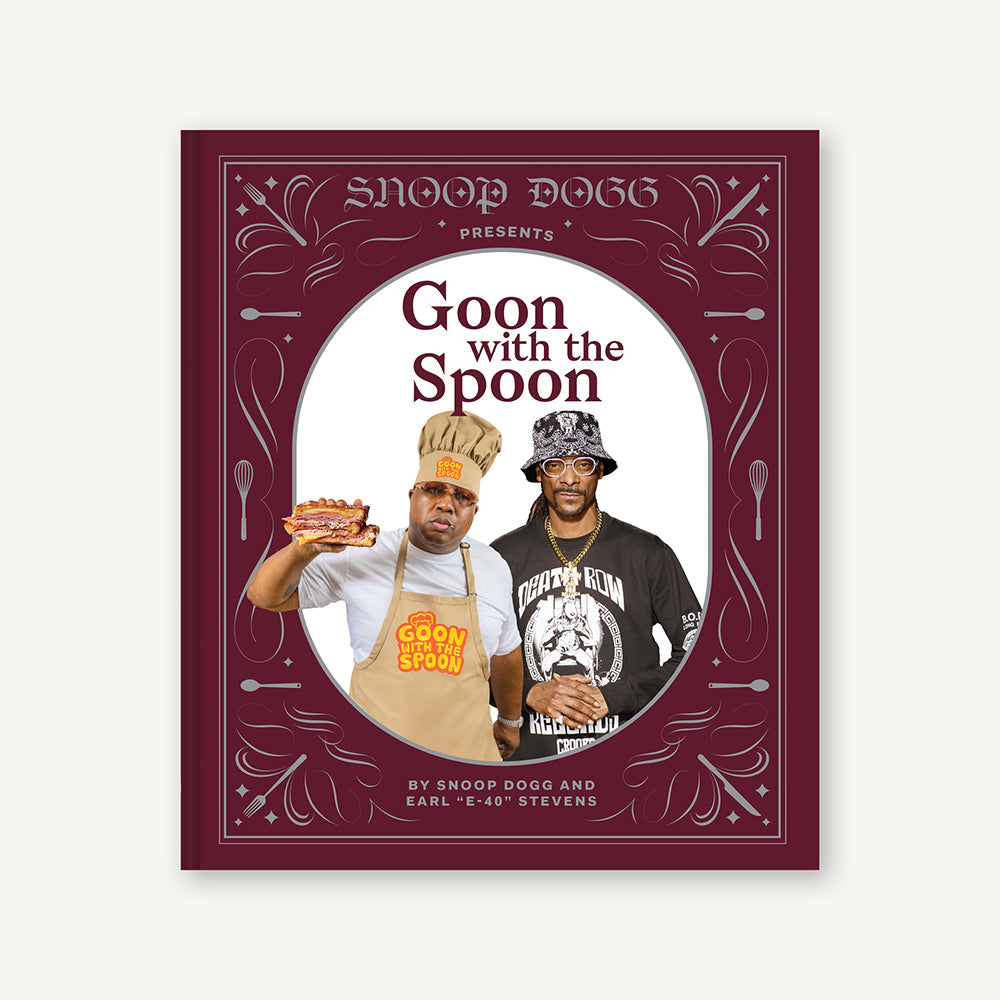 Snoop Dog Presents Goon with the Spoon
---
The follow-up to From Crook to Cook, this next-level cookbook is all about bringing together memorable meals for any occasion, with 65+ recipes from rappers Snoop Dogg and E-40.

Following the breakout success of his first cookbook, From Crook to Cook: Platinum Recipes from Tha Boss Dogg's Kitchen (more than 1 million copies sold), Snoop Dogg returns with this new collection of recipes in collaboration with his friend and iconic Bay Area rapper E-40.

Drawing inspiration from both rappers' musical catalogs, their favorite meals to cook and eat together, and E-40's Filipino food business, Lumpia, here are 65+ crowd-pleasing dishes that range from drinks to main courses to desserts. Seriously entertaining, this soulful cookbook is the follow-up fans are hungry for.


Pages: 192
Size: 7 1/2" x 9"
Publication Date: 11/14/2023
---
In stock, ready to ship

Inventory on the way
Please allow 2-4 business days for us to prepare your order. You will receive a shipping notification via e-mail once your order has been shipped.
Exchange + Return Policy
Returns are available for store credit or exchange only. Returns/exchanges are accepted within 14 days of delivery date. Items must be returned unopened/unused and in their original packaging. To return an item, follow the directions below:
email info@frankshopwp.com

 

with your inquiry to receive a return authorization number.
Returns/exchanges will NOT be accepted on any skincare/beauty, fragrance, personalized items, furniture, one of a kind art, personal hygiene items, or anything from the sale collection.
Returning an item is at your own risk. You must ensure that the item is adequately packaged and, at your option and cost, insured. We are not liable for damage caused by inadequate packaging by you or if the item is damaged or lost while being returned to us. Items that are damaged when we receive them will not be eligible for refund.
Processing an Exchange or Return
A store credit or exchange will be issued once we have received your returned items. Any items that are damaged when we receive them are not eligible for exchange/store credit. Returns/exchanges do not include any shipping or handling charges, except in the case of faulty or damaged items. Your store credit will be issued and emailed upon return approval.  
Damaged Items 
For items that have been damaged in transit please email info@frankshopwp.com and include pictures of the damage, and pictures of the shipping box help as well. Once we receive your email, we'll determine next steps. Emails for damages MUST be received within 10 days of delivery date.  Anything received later than that will not be eligible for exchange or refund.
Late Returns
Any item returned after 14 days from order date is not eligible for exchange/store credit. Holiday returns and exchanges will be accepted for exchange through the month of January.
Items Not Eligible for Exchange or Return
Please note that we do not accept returns of art, rugs, furniture, personal hygiene items, lighting, food, special order, any personalized or custom-made products, final sale merchandise, or products that are specified as non-returnable in its description. Returns are NOT accepted on any sale collection purchases.